The biggest drawback to having a garden is summer vacations. They don't pair well and finding someone reliable enough to water your garden when needed isn't an easy feat. Last year we had to go to Illinois for a work trip for the husband and a well-meaning but forgetful helper let our garden wilt and shrivel up in the 90 degree dry-as-a-popcorn-fart summer. Needless to say the entire garden wasn't what it could have been thanks to that week-long drought. But I digress.
Most of you know that we used our
rain water catchment system
last year and it worked like gangbusters. We actually could have used a couple more tanks because when it does rain out here, it always astonishes me just how much water comes off our roof and garage. We had plenty to get us through the incredibly dry summer and it helped that we used some huge plastic tubs to store the excess when we did have good rains.
We do plan to keep this going for this growing season. Assuming we have rain to collect. But the real question comes back around to vacations: what is our plan to keep the garden happy while we are out of town? All of our travel plans are for early season so there isn't much worry about harvesting anything. The concern is water.
We have decided to install a bit of irrigation into the raised beds this year, with the intention of only using them for the times we are gone. We will set it all up with a main
faucet timer like this one
(seen below), and run it early in the morning for an hour or so. That should keep the plants nice and happy without the worry of did our volunteer/helper actually water it today?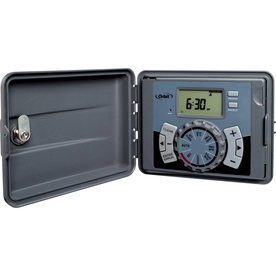 Image via Lowes.com
We haven't decided if we are going to go with soaker hoses or creating some more long-lasting PVC frames with drilled holes in them. I don't like how quickly soaker hoses can deteriorate, especially in our dry climate, so I'm hesitant to go out and buy 100 feet of it. But the general gist of it would work perfectly well. Like so:
Image via Pinterest, from houzz.com
I do like the idea (and so does the husband) of the PVC pipe frame because A) we can customize it based on our layout and won't have to fight with unruly hose tubing and B) because we don't have to glue it together which means we can reconfigure it at a later date. But it would be something along these lines:
Image via Pinterest, no link provided
Plus, we can rig up the PVC pipes with specifically laid out holes to work with our container gardens. If we were to use soaker hoses on them, we'd run the risk of wasting a lot of water. So I think the PVC option is in the lead.
Of course the PVC option will cost more up front, but I think it will be MUCH longer lasting and much less likely to end up in the trash. Either way we will lightly bury it in the mulch and get it in place early on, well before any plants go in the garden. How's that for planning ahead?
Hopefully we will only have to use it two times this year. I am loathe to use the neighborhood's water because not only do we have to pay for it (and it is expensive) but we will be using up a limited resource. But what's the point in creating and nurturing a lovely garden if you aren't going to water it, right? So, tell me: how do you all irrigate your gardens? What do you do when you are away on vacation?